Products we carry!
Wood Fillers
Wood Patch
Full-Trowel
Powdered Wood
No Shrink Patch-Quick & Extender
Pre-Finish Filler
Wood Floor Installation Products
Adhesive Remover Towels
Hand Cleaner Towels
7600 Applicator Gun
Epoxy Adhesive Supplies
Urethane Adhesive
Trowels
Dust Collection Bag
No-Wax Hardwood Floor Cleaner
Terry Mop Kit
Felt Floor Protector Pads
Tap-in Floor Pads
Touch-Up Spray
Click logo to return HOME
Shop Online for Flooring Supplies
Call us to place order by phone at 1-800-688-6970

Oak Floor Supply, Inc. provides a variety of installation to maintenance floor care products in our Fort Worth location and now online through our online shopping experience. Use your credit card, debit card or Pay Pal account to purchase products. We offer ground and air deliveries.
**International orders are not available online at this time.
Please call 1-800-688-6970 for pricing and shipping cost.
Wood Filler Products
Wood Patch
The higher solid content of Wood Patch makes it ideal for large fill areas or for spot filling during sanding. It can also be thinned and used as a Fill-Trowel Filler, simply mix 1-2 cups of water per one gallon of Wood Patch.
1 quart size - available in Red Oak $8.99
Wood Putty
Easy to use, non-hardening, 1 pound container of wood putty color-matched to DURA SEAL Penetrating Finish and designed to fill nail holes and cover minor imperfections in stained and finished wood. $6.75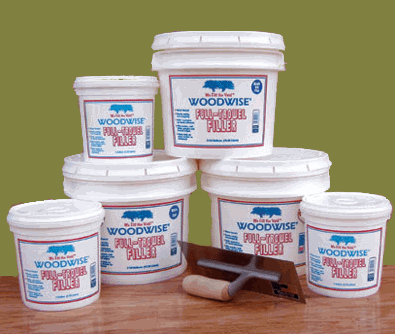 Full-Trowel Filler
Full-Trowel Filler is thinner than Wood Patch, and designed to spread across the surface of the wood floor. Just pour a workable puddle and trowel the floor, going back and forth across the cracks and voids to ensure deep penetration, removing excess filler as you go. 3 1/2-gallon bucket fills up to 3,000 square feet. Available in 1-gallon (15 pounds) and 3 1/2-gallon containers (55 pounds), in all 16 colors listed above.
1 gallon size:
$27.00
No Shrink Patch-Quick
A great new addition to the WoodWise line of wood fillers, this unique new dry wood patch was formulated specifically for filling large voids, without shrinking! This product is easy to mix, sets hard in 30 minutes, sands and stains easily, fills all sizes of voids without shrinking, can be coated over with finish, will not freeze in its powered form, cleans up with water, is environmentally friendly and cost effective, and contains no harsh solvents.
| | |
| --- | --- |
| Available in 1.5 lbs for $6.99 | and 6 lbs for $24.50 |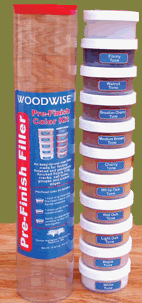 Pre-Finish Color Kit
A The convenient new packaging system allows you to easily carry 10 different colors of our Pre-Finish Filler at once, plus an empty jar for mixing custom shades.
Pre-Finish Color Kits includes:
1 each of all 10 colors of Pre-Finish Filler in 3-oz jars, 1 empty jar for mixing custom shades with handy reusable storage container to keep all 11 jars together. $53.00